There's always something exciting happening in OBX, but rarely do we get to make an announcement this big!
Nauti Gulls is now closer to the beach than ever! While we didn't physically move the house, we did give it a brand-spanking new address. It went from being off-beach to now being semi-oceanfront! That means better beach access and more breathtaking views to take in.
We at Nauti Properties are thrilled to add this gorgeous property to our range of vacation rental homes on the Outer Banks.
Semi-Oceanfront Vacation in OBX
Imagine waking up just steps away from your favorite OBX beach. You grab a cup of coffee, mosey out to the living room, and watch the sun rise over the water in air-conditioned comfort. Or maybe you'd like a closer look, so you open the sliding glass doors, step out onto the deck, and take in the splendor of a beach is so close you can smell the salty air and see the dolphins starting their day.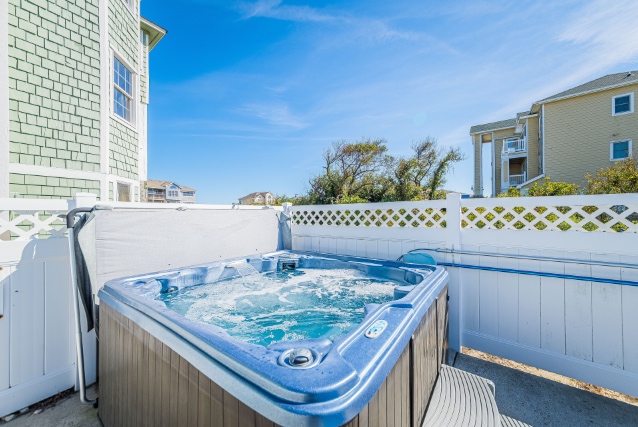 Sounds like the start of the best vacation you can imagine, right? Well, no need to imagine it any longer: that's the reality of our new Nauti Gulls vacation property.
From the home's third floor, your family can enjoy an open concept living space and a generous kitchen with granite countertops, a dining room, and a living room.
The second floor offers space for 12 guests to stretch out and enjoy a good night's rest. The home's five bedrooms and 3.5 bathrooms are found on the second floor, along with a huge wrap-around deck.
Not only is Nauti Gulls a great value for families and friends looking for a pristine vacation spot, it's also a nice getaway for your furry friends, as well!
Pet-Friendly Rental
Beyond its newfound proximity to the beach, Nauti Gulls is set up to accommodate all of your family members – including the ones with four legs, bad breath, and a tail.
That's right! No need to book a kennel or pet-sitter for your loyal companions; Nauti Gulls can quarter up to four dogs. Local leash laws are enforced in the Outer Banks, so be sure to come prepared with a leash and clean-up bags.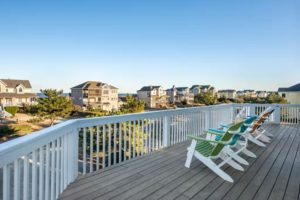 There's no shortage of space for the pooch(es) (and the kids) to enjoy in the huge first-floor game room and private pool deck. Or take the competition up a notch with a driveway basketball game and/or a round of HORSE.
The Nauti Gulls vacation home is in the picturesque community of Whalehead, so your family and friends will be in a lovely, quiet environment for a morning stroll to the beach or an afternoon dog walk around the neighborhood.
Openings Available This Season
We saved the best for last – you can still book Nauti Gulls for the 2022 season!
There are select weeks still available, but you will need to act fast. While this home is new to Nauti Properties, it's not new to the Outer Banks. Families familiar with OBX know and love this home, so we don't expect these open weeks to last long.
If you are lucky enough to book a stay at the Nauti Gulls home this season, you'll be one of the last to enjoy this home as-is. By the 2023 season, you may not recognize it. We have big plans to make this vacation property even better, and we can't wait to unveil them in 2023!
Until then, enjoy this beautiful and spacious gem in the Outer Banks.
If you're planning a vacation to the Outer Banks of North Carolina, Nauti Properties has a vacation home that is sure to suit your needs. Nauti Gulls, and our four other properties, are equipped with amenities for the whole crew to enjoy week-by-week during the peak season and by other arrangements year-round.
So, book with us today, and don't forget to…
Stay Nauti!