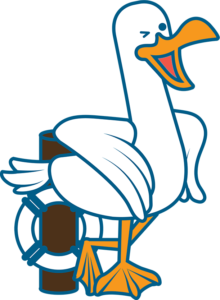 Hey there, buoys and gulls!
I'm Nat. E Gull, "Nat" for short. I'll be your friendly door bird at Nauti Properties
My job is to let you inside Nauti Properties and allow you to embark on your next vacation experience. Nauti Properties allows your coastal escape to take flight! I want to see you get away, and to have a true vacation – one that marks the time, and one that deepens bonds & rejuvenates minds, bodies, and souls.
My bird's eye view of the ideal vacation is one where I see friends and family sharing their dreams, moments, and memories including looking forward to time away and reminiscing back on their time together. I would like to open the door for you to see which one of our premium Outer Banks and Eastern Shore vacation properties fits you best and invite you to see how others before you have enjoyed their time with Nauti Properties.
Life can be serious sometimes; we want your vacation to be fun! Check out our availability then check-in and #StayNauti! See you on the water! I will swoop down and say hi! – Nat
Check out Our Outer Banks & Eastern Shore Vacation Properties

I fly back and forth from the Outer Banks, NC to the Eastern Shore, MD.
So, I know these places from a unique birds eye view!
I've got all the #nautiknowledge!
follow me on instagram for obx & eastern shore vacation tips & tricks, and more!