Nauti or knot
Rock Hall, MD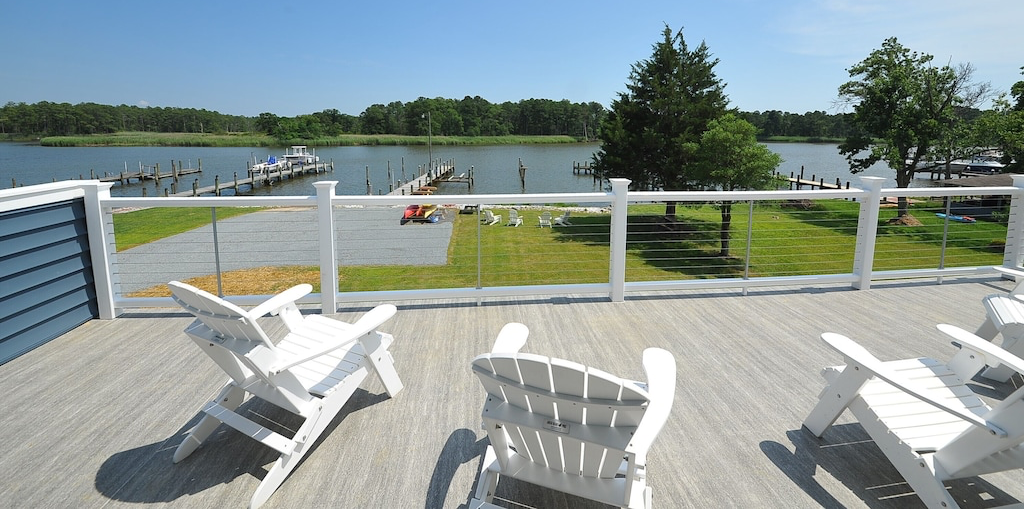 Remodeled and Enlarged! Nauti or Knot is getting a refresh! A fabulous waterfront property located on Grays Inn Creek with a private dock and an area to launch kayaks and small boats.
Nauti or Knot will now accommodate up to 16 guests. Lots of waterfront space to relax on the 2nd-floor sundeck or read a book on the 1st floor screened porch.
Bring your fishing gear or crab pots and fish right from your own dock. Enjoy family and/or friends in the waterfront TV/Game room while watching the boats and osprey of the area.
*Now available for booking! Find available dates for 2023!
Bring your own boat or jet skis and dock them on your private pier at Nauti or Knot. Or use the provided kayaks and paddle boards to explore the area by water.
The town of Rock Hall is close by with its own beach, restaurants, and local shops to explore. The historic town of Chestertown is also nearby with more restaurants and shops to explore.  
Eastern Shore Rental House Info
Linens Provided (Towels, Bed Sheets)

Essentials Provided (Soap, Toilet Paper)

Free Parking on Premises
Kitchen

Pets Allowed

Long Term Stays
TV/Game Room

WiFi Internet Access

Laundry
AC/Heating

Self Check In

Keyless Entry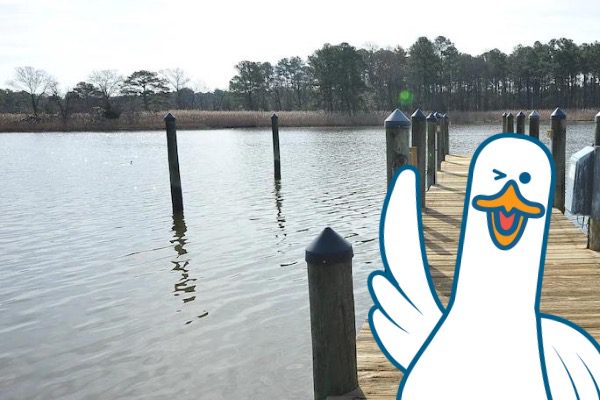 Try Nat's Favorite Spot:
The Private Pier!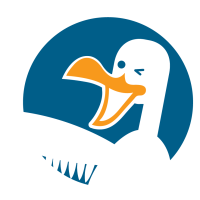 These Guests #StayedNauti in rock hall and loved it!
Exactly the relaxing getaway that we needed!
This house and water access were the perfect getaway for us. We brought our 3 kayaks. The boat launch on the property was perfect access to the water. Easy and safe kayaking all around. The house was very comfortable. Kitchen was well stocked and all was in working order. Loved the screened porch- we played games every evening and enjoyed the breeze and osprey/heron/ eagle activity. We also appreciated the carport for parking our truck loaded with kayaks when we arrived. Local restaurants were delightful! Such a great house in a great area to enjoy the water and water fowl.
Great Chesapeake Family vacation
Great house at a super location! The house was perfect for my family of six with lots of comfortable space and seating. The kitchen was clean and well equipped. The bedrooms were a good size and the beds comfortable. Of course if your on the Chesapeake the dock is the best part. We spent most of the day on the water kayaking, paddle boarding and fishing. This is a nature lovers paradise and it was much less developed and quieter than other parts of the Chesapeake. It's a great place for a family get-away!!
Nauti or Knot is very nice!
I have stayed at Nauti properties in the Outer Banks and while checking their website I came across a new rental property in Maryland which is much closer to my home than North Carolina. Needing to get away for a few days, I booked this property. The Nauti or Knot is a charming 3 bedroom, 2 bath newly renovated home that is clean, well equipped and tastefully decorated to make you feel right at home. The view of the dock and waterway from the large living room window is delightful as are the sounds of the geese and other water life floating and playing nearby. We had a very enjoyable stay and loved the home, the property and the surrounding area. Nauti properties never disappoint.
This property was spacious and clean and well stocked with everything we needed. Although kayaks were provided, the 4 of us brought our own. We loved the ease of heading to the water multiple times of day! The "resident ospreys", heron, hummingbird and local eagles were delightful! It was our first time to the area, and we enjoyed our casual meals in Rock Hall and our sunset cruise. We biked the Cross-Island Trail on Kent Island on the only chilly day of our stay. The property manager was VERY helpful and always prompt with responses to my questions. In short, I expect to return same time next year 🙂
Peaceful and clean, great location. Loved the view and the private pier.
Overall it was great and we'll be back! Inside was beautiful, clean, comfortable. Such a peaceful getaway and we lived the area. We will look forward to returning!
My family with teenagers really enjoyed our stay- loved using the paddle boards and kayaks! We brought our floats to enjoy the water too. The screened porch was great and overall house was perfect for us!
This rental is really nice. Very clean, very comfortable and very relaxing! The beds were very comfortable. The Kitchen was well stocked and a nice touch of having shampoo, condition and liquid soaps in the bathrooms. The home is located in a quiet neighborhood. The screened porch is also a nice addition to the home. I highly recommend this rental.
Much deserved girls getaway
This weekend was a wonderful getaway and the perfect backdrop for old friends to escape reality and catch up. We loved the house. Everything was so clean and beds were unbelievably comfortable. I highly recommend it. We'll definitely be back to make more memories.
We had a super time and enjoyed the pier! Loved being able to bring our boat for the trip. Beds were very comfortable. Back screen porch was nice but it was so hot this week it was nice to go inside and cool down:).
rental Dates Not Available?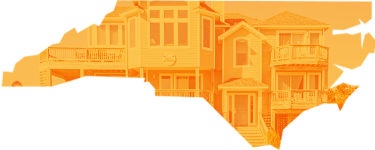 Try Our Outer Banks, North Carolina Properties!