Known as "The Pearl of the Chesapeake," this scenic bay town of Rock Hall, MD is home to a rich maritime history, breathtaking views, and a relaxing vibe.
However, Rock Hall is also a well-known launch point for charter fishing, boat tours, kayak excursions, and more, all thanks to the many nautical wonders that lie off the coast within the beautiful blue waters of the Chesapeake Bay.
Which is why a true Rock Hall vacation isn't complete until you've set sail with Blue Crab Chesapeake Charters.
Sail the Chesapeake Bay
Nearly 25 years ago, Captain Mark Einstein and his sailboat moved to Rock Hall. He used the boat to start a Chesapeake Bay sailboard charter business known today as Blue Crab Chesapeake Charters.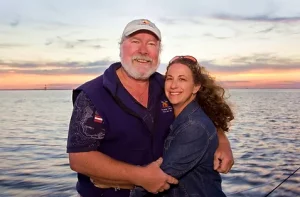 Today, Captain Mark and his "first and only mate," Suzanne Einstein, offer unique cruises on their sailboats, "Island Girl" and "Crab Royale." From April 1 to October 1 every year, you'll find Captain Mark and his first mate hosting sailing trips 7 days a week and up to five times a day.
"There's no bad time to cruise the Chesapeake Bay," Captain Mark said.
Blue Crab Charters' 90-minute sailing cruises treat passengers to a comfortable ride on the boat's deck, while also allowing them to escape the sun's rays in the cockpit. Complimentary beverages are included, and passengers can even order lunch or dinner takeout (including adult beverages) from the nearby Waterman's Crab House to enjoy on the boat.
Blue Crab Charters is most famous for its sunset cruise outings. Known as Rock Hall's Original Sunset Cruise, passengers can relish their enjoyable jaunt knowing they will experience the very best the Eastern Shore has to offer.
"We guarantee a sunset every night," Captain Mark said. "We can't guarantee you'll see it, but we guarantee it's there."
The Local Hospitality from Rock Hall's Favorite Captain and First Mate are As Gratifying as Sailing the Bay with Them
Captain Mark and Suzanne happily share their local insight with passengers who want to know how to make the most of their stay at the Chesapeake Bay.
There's no shortage of fun and folly on a Blue Crab Cruise – Captain Mark and Suzanne love to help passengers celebrate birthdays and anniversaries on their cruises and even offer up their services as "The Singing Captain and Mate!" (Seriously!)
With over 30 years of experience sailing the seas, Captain Mark and Blue Crab Charters have earned recognition from several regional publications and are top-rated on Trip Advisor. The charter team is also a multi-year winner of "What's Up?" Magazine's "Best of the Eastern Shore" and Chesapeake Bay Magazine's "Best of the Bay" awards.
Group or Private Sailboat Charter
Blue Crab Charters offers both group and private sailing options. Both sailing vessels hold up to six passengers, and, with advanced notice, additional capacity is available through their network of boats and captains.
Affordable Family Fun
Sailing fun isn't limited to special occasions at Blue Crab Charters. Every sail around the Chesapeake Bay will create unforgettable memories for the whole family. Passengers can enjoy complimentary beverages or pack a lunch. Kids – and kids at heart – can even take the wheel and try their hand at sailing the boat.
Fully licensed and insured, Blue Crab Charters is perfect for families looking for an affordable activity on the Chesapeake Bay. A standard 90-minute cruise is $35 per person. "Our prices can't be beaten," claims Captain Mark, who hasn't raised his prices in more than ten years. "The fuel is free," he quips of his wind-powered vessels.
Launching from the Waterman's Crab House, passengers can easily make the trip a full-day adventure with lunch or dinner before or after the excursion and live music on the weekends. Parking is abundant, free, and close to the restaurant, dock, and public restrooms.
Come Stay Nauti with Us and Get Ready to Set Sail
Escape from everyday life and experience the "Pearl of the Chesapeake" with a stay at our Nauti or Knot vacation property in Rock Hall. This quaint waterfront town on the Chesapeake Bay is great for seafood lovers, history buffs, and live music enthusiasts.
However you decide to spend your stay in Rock Hall, don't forget to…
Stay Nauti!