Finding a vacation rental home on the Outer Banks that suits the entire family can be challenging. The house needs enough space for everyone to spread out comfortably, and enough amenities to keep kids of all ages entertained. Proximity to the beach is a plus, while a private pool and hot tub are non-negotiable. And if the home is pet-friendly, even better.
Nauti Properties renovated our Nauti Gulls vacation home to create this "unicorn" — the perfect family vacation home…a semi-oceanfront dream home with 12 master bedrooms and 12 ½ bathrooms. That's plenty of space and privacy for the whole family, including pets.
12 Bedrooms and Bathrooms
Bigger isn't necessarily better. Unless you're talking about Outer Banks vacation rentals. And Nauti Gulls is BIG. After nearly a year of renovations, the home features 12 master bedrooms, each with its own bathroom, plus two half-baths near the main living areas.
Along with a laundry room and recreation room, the first level includes four master bedrooms – one with a pyramid bunk with a trundle bed, a second with a queen bed, and two rooms with double bunk sets. The mid-level has another six master bedrooms – two with queen beds, four with king beds, and one with a pyramid bunk and trundle bed. Finally, the upper level offers one master bedroom with a king, while the rest of the space is dedicated to the large kitchen and dining spaces, all featuring stunning ocean views.
Thoughtful Amenities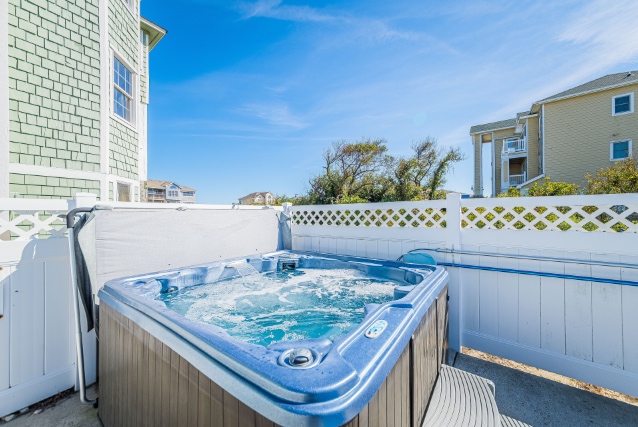 Since you won't be sleeping your vacation away, Nauti Gulls also features a large kitchen with two full-size refrigerators, so you can stock up on your favorite food and drinks. The home also offers a comfortable living room for family gatherings, and a recreation room to spread out. If outdoor spaces are more your style, relax on the sun deck, which is next to the private pool, or in the hot tub.
Thanks to a three-story elevator, getting around this home is a snap, and unloading the car just got a whole lot easier. Even accessing the sun deck on the third floor is just the click of a button away.
Close to Everything
Thanks to its semi-oceanfont location that's only minutes from shopping and restaurants in nearby Corolla, Nauti Gulls combines gorgeous views and beach access with ample space and privacy, making it the perfect vacation rental for the whole family.
Looking for something smaller? Nauti Properties offers several vacation homes in various sizes all across the Outer Banks. Visit our website to view all of our vacation homes and book your stay today.
Create memories that last a lifetime, and don't forget to…
Stay Nauti!